Implant Supported Crowns and Bridges
An Implant Supported Crowns or Bridges are similar to a regular dental crown or dental bridge, but it is supported by implants and not by natural teeth. In most cases, when an implant-supported crown or bridge is used, one implant is placed in the jawbone for each missing tooth. Then in the case of an implant supported bridge the crowns are connected to each other to form one piece.
An implant supported crown is used when a single tooth is missing, A dental crown is cemented onto the top of your implant. It acts just as a normal crown would on a natural tooth.
An implant supported bridge is used when more than one tooth is missing. A dental bridge is cemented onto the top of two or more implants. It also may be used if Dr Jack is concerned that too much pressure may be put on one implant. An implant supported bridge reduces the pressure on the individual implants and spreads it across the entire bridge.
In some cases, Dr Jack may not be able to place your implant in a certain area of your mouth. There may just not be enough bone to support your implant, or the area may be too close to your nerves or sinus cavity. In this case, Dr Jack will place your implants on either side of the area and an implant supported bridge will be made.
Dr Jack recently helped a patient with an Implant Supported Bridge, you can read about her journey here. Patient Care Article with Implant Supported Bridges.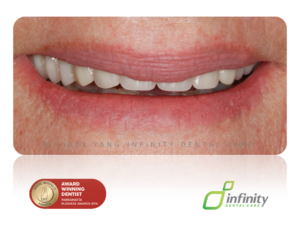 Learn more about Implant Supported Crowns and Bridges and how they can help you, schedule an appointment with Dr Jack at Infinity Dental Care Winston Hills call us on
(02) 9838 9111 or simply book online here or visit our practice at 180 Caroline Chisholm Drive, Winston Hills NSW 2153.
Any surgical or invasive procedure carries risks. Before proceeding, you should seek a second opinion from an appropriately qualified health practitioner.
Implant Supported Crowns and Bridges
Infinity Dental Care
Winston Hills Shopping Centre
180-192 Caroline Chisholm Drive,
Winston Hills NSW
02 9838 9111
info@infinitydentalcare.com.au


Opening Hours:
Monday 9 am – 6 pm
Tuesday 9 am – 6 pm
Wednesday 9 am – 6 pm
Thursday 9 am – 9 pm
Friday 9 am – 6 pm
Saturday 9 am – 3 pm